Get The Home Of Your Dreams With Our Remodeling Services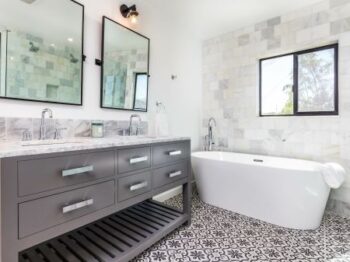 At Prestige Construction & Home Remodeling, we have been a trusted name for homeowners in Battle Ground, WA, for years. We pride ourselves on delivering exceptional results with every remodeling project we do. As a local contractor deeply rooted in the community, our company strives to stand as a symbol of reliability, craftsmanship, and dedication to client satisfaction. With a commitment to honesty and a 10-year workmanship warranty on all services, Prestige Construction & Home Remodeling is the go-to choice for those seeking high-quality remodeling and new home additions in Battle Ground and the surrounding areas. Give us a call today for a free estimate!
The Benefits of Remodeling Your Home
Home remodeling offers a wide variety of benefits that extend beyond aesthetics. Whether it's a bathroom or kitchen remodel or a complete home renovation, the advantages are significant. First and foremost, remodeling enhances the functionality of your living spaces. It allows you to optimize layouts, add storage solutions, and incorporate modern conveniences that align with your lifestyle. The result is a more efficient and enjoyable living environment.
Additionally, remodeling increases the value of your home. A well-executed remodel can significantly boost your property's resale value, making it a wise investment for the future. A home remodeling project also allows you to express your personal style and taste. It gives you the opportunity to create spaces that reflect your personality and preferences, turning your house into a true reflection of your identity. Our team at Prestige Construction & Home Remodeling is excited to help you transform your home!
Get A Bathroom Remodel And Elevate Your Space
Your bathroom should be more than just a functional space where you begin and end your day; it should also be a place where you can unwind and relax. Working with a remodeling contractor like Prestige Construction & Home Remodeling, who understands the importance of a well-designed bathroom that caters to both style and functionality, can make a huge difference. Whether you're looking to create a spa-like atmosphere, optimize space in a small bathroom, or modernize an outdated design, we are equipped to bring your vision to life.
All of our bathroom remodeling projects are characterized by our attention to detail and commitment to superior craftsmanship. We work closely with you to understand your preferences, lifestyle, and budget, tailoring every aspect of the project to suit your unique needs. From selecting the perfect fixtures and materials to optimizing the layout and maximizing storage, we ensure that your new bathroom not only reflects your style but also enhances your daily routine.
The 5 Things Needed To Make Any Project Go Smoothly
Communication: Nothing is more important to us than clear and consistent communication. We will always ensure you are informed every step of the way.
Transparency: We will always be transparent and realistic with you about our recommendations, timelines, and budgets so there are no surprises.
Dependability: Working with us means you don't have to second guess yourself. You can depend on us to show up on time and get the job done right.
Honesty: At Prestige, we will always be honest with you. From small delays to product availability, you can trust us to ensure your project turns out great.
Quality: Whether it's your floors, siding, or countertops, you can always expect the highest quality products from our local company.
Hire An Experienced Remodeling Contractor To Get Your Dream Kitchen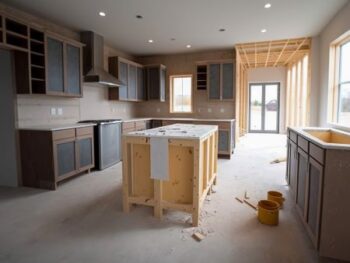 The kitchen is the heart of any home, a space where family and friends gather to create memories over delicious meals. At Prestige Construction & Home Remodeling, we recognize the important role that kitchens play in your daily life. That's why we approach every kitchen renovation project with a commitment to excellence and a deep understanding of the importance of functionality and aesthetics.
Our kitchen remodeling services are designed to transform your kitchen into a functional and stylish space that suits your lifestyle. Whether you dream of a modern culinary haven, a cozy farmhouse kitchen, or a sleek and minimalist design, we will work closely with you to bring your vision to life. We take into consideration every aspect of the kitchen, from the kitchen cabinets and countertops to lighting and flooring, ensuring a seamless and efficient layout that enhances your daily life.
Your Search For A Home Remodeling Contractor Near Me Is Over
At Prestige Construction & Home Remodeling, we strive to make the remodeling process as seamless as possible. With years of experience, transparent pricing, and a 10-year workmanship warranty, we aim to not only meet but exceed your expectations.
With over 28 years of experience, a commitment to quality, and a dedication to client satisfaction, we take pride in being the go-to choice for home remodeling in the Battle Ground area. Contact us today, and let us transform your house into a home that you'll love for years to come.