Transform Your Home With A Beautiful Bathroom Remodel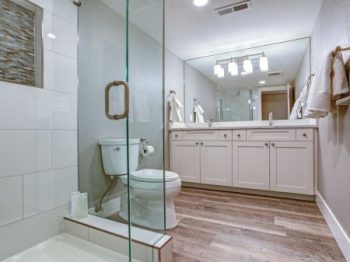 At Prestige Construction & Home Remodeling, we have over 28 years of experience in remodeling, flooring, decking, and other general contractor services. We always look forward to helping homeowners design and execute their complete bathroom remodel to fit their vision. We understand that for many people, their current bathroom layout and design may not have the storage space, color palette, shower, or other elements that would help transform that area into their favorite room in the house.
Whether you're looking to redesign your master bathroom or modernize the guest bathroom, our local company is here to ensure everything goes smoothly and you are delighted with the results. Call Prestige Construction & Home Remodeling today for a free estimate!
We Will Help Bring Your Bathroom Remodel Ideas To Life
When homeowners start brainstorming ideas for their bathroom remodel project, they're often looking for upgrades that will not only enhance the aesthetics of the space but also improve functionality and comfort. Some of these popular upgrades include:
Replacing outdated fixtures with energy-efficient and stylish options.
Installing luxurious heated flooring for those chilly mornings.
Expanding shower spaces with sleek, frameless glass enclosures.
Upgrading to modern, space-saving storage solutions.
However, what truly sets the experience apart is choosing the right contractor for the job. At Prestige Construction & Home Remodeling, we continuously strive to be the go-to choice for homeowners looking for professional bathroom remodeling in Vancouver, WA. With our unwavering commitment to quality craftsmanship, attention to detail, and skilled professionals, we ensure that every aspect of your bathroom remodel is executed to perfection.
The 5 Things Needed To Make Any Project Go Smoothly
Communication: Nothing is more important to us than clear and consistent communication. We will always ensure you are informed every step of the way.
Transparency: We will always be transparent and realistic with you about our recommendations, timelines, and budgets so there are no surprises.
Dependability: Working with us means you don't have to second guess yourself. You can depend on us to show up on time and get the job done right.
Honesty: At Prestige, we will always be honest with you. From small delays to product availability, you can trust us to ensure your project turns out great.
Quality: Whether it's your floors, siding, or countertops, you can always expect the highest quality products from our local company.
We'll Make Sure The Entire Bathroom Remodeling Process Goes Smoothly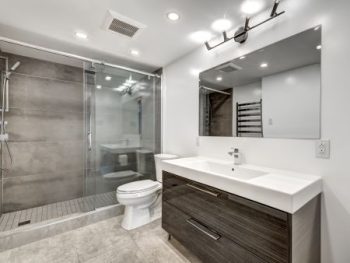 Planning a bathroom remodeling project requires careful consideration and thoughtful decision-making. From initial design concepts to the final finishing touches, we work closely with homeowners to bring their visions to life, making the remodeling process a stress-free and rewarding experience.
Initial Consultation: We begin by meeting with you to discuss your vision and objectives for your dream bathroom. The owner of our local company works on every project and collaborates closely with you to understand your specific needs and desires.
Design and Bathroom Floor Plan: Once we have a clear understanding of your goals, we will work on creating a bathroom floor plan that optimizes the use of space. This includes selecting fixtures, cabinetry, countertops, and other elements that align with your vision.
Material Selection: Choosing the right materials is a crucial aspect of a bathroom remodel. We guide you in selecting high-quality materials that not only enhance the aesthetics but also ensure durability and longevity.
Budgeting: Establishing a budget is essential to ensure that your bathroom remodel stays within your financial parameters. We work with you to create a realistic budget that takes into account all aspects of the project, from the wide selection of materials and labor to permits and unexpected expenses.
Construction: The construction phase involves bringing your dream bathroom to life. We have years of experience in the construction industry and will handle every detail, from demolition and plumbing to electrical work and finishing touches.
Quality Assurance: Before we consider the project complete, we conduct a thorough quality check to ensure that every aspect of your dream bathroom meets our high standards.
Work With Our Bathroom Remodeling Experts Today!
With over 28 years of combined experience in remodeling and general contracting, our company has the expertise and knowledge to execute bathroom renovations with precision and excellence. We understand that every bathroom remodel is unique, and we tailor our services to meet your specific needs in order to create a bathroom that reflects your vision.
We always utilize high-quality materials that not only enhance your design but also ensure the longevity of your remodel. You can rest easy knowing that our company will work with you to create a transparent budget that aligns with your financial goals, ensuring that there are no surprises along the way. If you're ready to turn your bathroom into the dream oasis you've always wanted, contact Prestige Construction & Home Remodeling in Vancouver, WA. With our experience, dedication, and commitment to excellence, we're your ideal partner for creating the bathroom of your dreams.