Get Professional Deck Installation For Your Home Today
For many people in the Pacific Northwest, there's nothing better than sitting outside with your friends and family, enjoying a cool summer evening or a crisp fall day. And the best way to do that is by having a custom deck installed by Prestige Construction & Home Remodeling.
We strive to be the go-to choice for homeowners in Vancouver, WA, for their deck installation, patio covers, new home additions, and more. With our extensive experience and commitment to using high-quality materials, our goal is to help enhance the beauty of your natural surroundings and build you the dream deck you've always wanted. Give us a call today and get started on your deck-building project today!
Work With Our Deck Builders To Elevate Your Outdoor Living Space
Building quality decks is more than just a construction project; it's about creating an inviting and functional outdoor space that complements your lifestyle. At Prestige Construction & Home Remodeling, we understand that every homeowner has different ideals and goals in mind for their deck-building project, and we are dedicated to designing and constructing beautiful decks that seamlessly integrate with your home and surroundings.
Our deck services encompass a wide variety of options, from traditional wood decks to the advanced benefits of a composite deck material. We work closely with you to understand your vision and preferences, ensuring that your deck installation enhances your outdoor space and reflects your unique style.
Beauty Meets Durability With Our Composite Decking
Composite decking is an excellent choice for homeowners seeking the perfect blend of natural beauty and durability. It replicates the look and feel of real wood while offering numerous advantages, including minimal maintenance, exceptional longevity, and resistance to moisture, rot, and pests.
At Prestige Construction & Home Remodeling, we work with industry-leading manufacturers like Trex to provide you with composite deck material that will look beautiful and last a lifetime. Trex composite decking is available in a wide variety of colors and styles to choose from. Our professional deck services ensure that your outdoor space not only looks stunning but also stands the test of time, providing years of enjoyment with minimal upkeep.
Working With An Experienced Contractor
Working with an experienced contractor is essential to ensure your deck installation, patio cover, or composite decking project is flawlessly executed. Outdoor living spaces require precise planning, expert craftsmanship, and knowledge of local building codes and regulations. An experienced contractor like Prestige Construction & Home Remodeling has the expertise to manage every aspect of your project, from design to construction. Furthermore, our commitment to using high-quality materials and adhering to industry standards guarantees that your outdoor space is not only beautiful but also safe and long-lasting.
The 5 Things Needed To Make Any Project Go Smoothly
Communication: Nothing is more important to us than clear and consistent communication. We will always ensure you are informed every step of the way.
Transparency: We will always be transparent and realistic with you about our recommendations, timelines, and budgets so there are no surprises.
Dependability: Working with us means you don't have to second guess yourself. You can depend on us to show up on time and get the job done right.
Honesty: At Prestige, we will always be honest with you. From small delays to product availability, you can trust us to ensure your project turns out great.
Quality: Whether it's your floors, siding, or countertops, you can always expect the highest quality products from our local company.
Combine Shelter And Style With A Patio Cover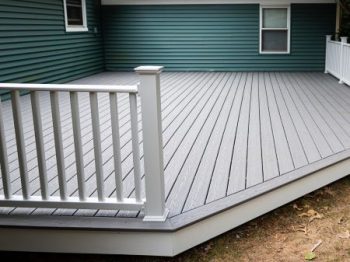 Enhancing your outdoor living space often involves more than just the deck itself; it includes providing shelter and comfort. Patio covers offer an ideal solution, allowing you to enjoy your deck or patio in any weather. At Prestige Construction & Home Remodeling, we specialize in creating patio covers that not only protect you from the elements but also add a touch of style to your outdoor space.
Our patio covers are designed to seamlessly integrate with your deck or patio, providing shade and shelter without compromising on aesthetics. Whether you prefer a simple, elegant design or something more elaborate, we will work closely with you to create the perfect patio cover for your outdoor living area.
When You're Searching For A Deck Builder Near Me, Give Us A Call
When you choose Prestige Construction & Home Remodeling as your deck builders in Vancouver, WA, you're choosing a local company that is dedicated to turning your outdoor living dreams into reality. Our wide variety of deck services, commitment to quality materials, and years of experience set us apart from other deck companies as the preferred choice for creating beautiful and functional outdoor spaces.
Contact us today to discuss your deck installation, patio cover, or composite decking project and experience the Prestige difference. Let us enhance the natural beauty of your outdoor living space, providing you with a place to relax, entertain, and enjoy the great outdoors. Give us a call today to get started!