Get A Complete Kitchen Remodel Today!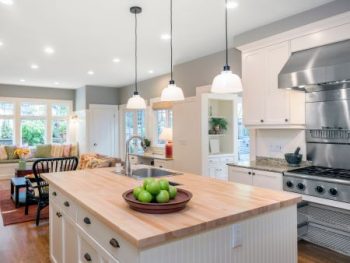 Your kitchen is more than just a place to cook; it's the heart of your home, where cherished memories are made and shared. At Prestige Construction & Home Remodeling, we understand the importance of a kitchen that not only meets your functional needs but also matches your unique style and aesthetic. We have decades of experience providing kitchen and bathroom remodeling, flooring, and other general contractor services. We always look forward to helping homeowners transform their current kitchen into something beautiful. From custom kitchen islands and new flooring to granite countertops and crown molding, we do it all! Give us a call today for a free estimate and get started with your complete kitchen makeover!
Why Work with an Experienced Kitchen Remodeling Contractor?
When it comes to your kitchen renovation, working with an experienced contractor can make all the difference. At Prestige Construction & Home Remodeling, we strive to ensure you have the successful kitchen remodel you deserve. We bring over 28 years of construction industry experience to every project, and we specialize in creating custom solutions to meet your unique needs and bring your kitchen to life.
One of the key benefits of working with a seasoned contractor is the ability to optimize your kitchen floor plan. We understand how a well-planned layout can enhance the functionality and flow of your kitchen. Whether it's reconfiguring the workspace, adding an island, or expanding storage options, our experts have the knowledge to maximize your kitchen's potential.
The Basic Process of a Kitchen Remodel Project
The journey to your dream kitchen begins with a well-structured plan. Here's a basic overview of the kitchen remodeling process at Prestige Construction & Home Remodeling:
Consultation: We start by meeting with you to discuss your vision, goals, and budget. Our owner works on every project and collaborates closely with you to understand your unique needs and desires for your dream kitchen.
Design and Planning: Once we have a clear understanding of your objectives, we work on designing a kitchen floor plan that optimizes space and functionality. Custom cabinets, countertops, fixtures, and finishes are selected to align with your vision.
Demolition: We carefully dismantle the existing kitchen, ensuring that any salvageable materials are preserved and any necessary structural changes are made.
Construction: This phase involves building your new dream kitchen. Custom cabinets are installed, new appliances are integrated, and every detail is meticulously attended to. We will ensure that the project stays on schedule and within budget.
Finishing Touches: The final details, such as lighting, backsplashes, and hardware, are added to complete the transformation.
Quality Assurance: Before we consider the project complete, we conduct a thorough quality check to ensure that every aspect of your dream kitchen meets our high standards.
The 5 Things Needed To Make Any Project Go Smoothly
Communication: Nothing is more important to us than clear and consistent communication. We will always ensure you are informed every step of the way.
Transparency: We will always be transparent and realistic with you about our recommendations, timelines, and budgets so there are no surprises.
Dependability: Working with us means you don't have to second guess yourself. You can depend on us to show up on time and get the job done right.
Honesty: At Prestige, we will always be honest with you. From small delays to product availability, you can trust us to ensure your project turns out great.
Quality: Whether it's your floors, siding, or countertops, you can always expect the highest quality products from our local company.
Benefits of Updating Your Kitchen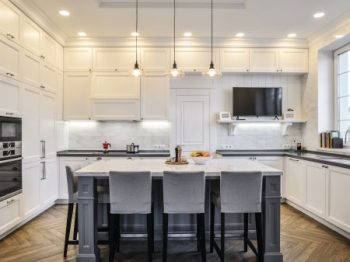 A kitchen remodel can breathe new life into your home and significantly increase its value. While you might want to remodel your kitchen simply because of its outdated design, there is a long list of additional benefits that come with this home renovation project.
Enhanced Functionality: A kitchen remodel allows you to modernize your space, making it more efficient and functional. Custom cabinets, smart storage solutions, and an optimized layout can transform your kitchen into a practical workspace.
Increased Property Value: Investing in a kitchen overhaul can substantially raise the resale value of your home. Potential buyers are often willing to pay more for a well-designed and up-to-date kitchen.
Energy Efficiency: Updating appliances and fixtures during a remodel can lead to increased energy efficiency, reducing your utility bills and environmental footprint.
Improved Aesthetics: A beautiful kitchen can significantly enhance the overall look and feel of your home, making it a more inviting and enjoyable space for you and your guests.
Personalization: A kitchen remodel allows you to express your style and preferences. You can choose materials, colors, and finishes that reflect your personality and taste.
Stop Your Search For Kitchen Remodeling Near Me. Call Us Today!
At Prestige Construction & Home Remodeling, we take pride in delivering kitchen remodeling projects that exceed our clients' expectations. If you're in Vancouver, WA, and ready to turn your kitchen into the dream space you've always wanted, contact us today. With our experience, dedication, and commitment to excellence, we're your trusted partner for creating the kitchen of your dreams. Give us a call today for a free estimate!